Academics at FHI bring the tools of mathematics, philosophy, social sciences, and the natural sciences to bear on big-picture questions about humanity and its prospects. Our mission is to shed light on crucial considerations that might shape humanity's long-term future.
We currently divide our work into four focus areas:
Macrostrategy – Understanding which crucial considerations shape what is at stake for the future of humanity.
AI safety – Researching computer science techniques for building safer artificially intelligent systems.
AI strategy – Understanding how geopolitics, governance structures, and strategic trends will affect the development of advanced artificial intelligence.
Biorisk  – Working with institutions around the world to reduce risks from especially dangerous pathogens.
Macrostrategy
FHI's big picture research focuses on the 
long-term consequences of our actions today, and the complicated dynamics that are bound to shape our future in significant ways. A key aspect to this is the study of existential risks – events that endanger the survival of Earth-originating, intelligent life or that threaten to drastically and permanently destroy our potential for realising a valuable future. Our focus within this area lies in the impact of future technology capabilities and impacts (including the possibility and impact of Artificial General Intelligence or 'Superintelligence'), existential risk assessment, anthropics, population ethics, human enhancement ethics, game theory, and consideration of the Fermi paradox. . Many of the core concepts and techniques within this field originate from research by FHI scholars, they are already having a practical impact, such as in the effective altruism movement

Featured Macrostrategy Publications
AI Safety
Surveys of leading AI researchers suggest a significant probability of human-level machine intelligence being achieved this century. Machines already outperform humans on several narrowly defined tasks, but the prospect of general machine intelligence (AGI) would introduce novel challenges. The goal system would need to be carefully designed to ensure that the AI's actions would be safe and beneficial. Avoiding AGI's potential negative impact on the future of humanity is maybe one of the most important challenges of this century.
Current problems in AI safety include the risk of AGI to game their own reward functions, reinforcement learners being able to safely explore their environments as well as avoiding negative side effects of goal functions. FHI works closely with Deepmind and other leading actors in the development of artificial intelligence.

Featured AI safety publications
AI Strategy
In addition to working directly on the technical problem of safety with AI systems, FHI examines the broader strategic, ethical, and policy issues to reduce the risks of long-term developments in machine intelligence. Given that the actual development of AI systems is shaped by the strategic incentives of nations, firms, and individuals, we research norms and institutions that might support the safe development of AI. For example, being transparent about different parts of the AI research process differently shapes incentives for making safety a priority in AI design.
As part of this work, we participate as members of the Partnership on AI to advise industry and research partners and work with governments around the world on aspects of long-run AI policy. We have worked with or consulted for the UK Prime Minister's Office, the United Nations, the World Bank, the Global Risk Register, and a handful of foreign ministries.

Featured AI Strategy Publications
Bioethics
The rapid developments in biotechnology and genetic engineering have led to great advances in the medical and other sciences, however, they also increase the potential for existential crises due to the engineering and possible release of harmful biological pathogens. FHI looks at technical and ethical questions around these potential dangers in order to prevent the low probability but high impact events threatening global biosafety. One approach to reducing the risks is to improve policy in the area of biorisk and ensure lab standards and safety procedures are at a safe level. FHI is in the process of growing its considerations and research efforts in the field of biosafety. In the past, FHI researchers have worked with and consulted the US President's Council on Bioethics, the Global Risk Register and some foreign ministries on policy in bioethics.

Featured Bioethics Publications
Beyond risk-benefit analysis: pricing externalities for gain-of-function research of concern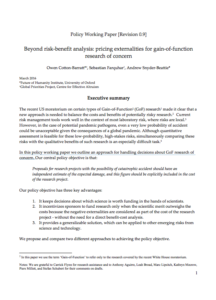 In this policy working paper we outline an approach for handling decisions about Gain of Function research of concern. Read more >>
Human Agency and Global Catastrophic Biorisks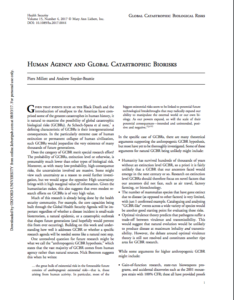 Given that events such as the Black Death and the introduction of smallpox to the Americas have comprised some of the greatest catastrophes in human history, it is natural to examine the possibility of global catastrophic biological risks (GCBRs). In the particularly extreme case of human extinction or permanent collapse of human civilization, such GCBRs would jeopardize the very existence of many thousands of future generations. Does the category of GCBR merit special research effort? Read more >>
Existential Risk and Cost-Effective Biosecurity
This paper provides an overview of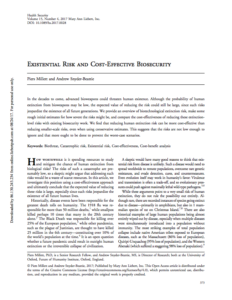 biotechnological extinction risk, makes some estimates for how severe the risks might be, and compares the cost-effectiveness of reducing these extinction level risks with existing biosecurity work. The authors find that reducing human extinction risk can be more cost-effective than reducing smaller-scale risks, even when using conservative estimates. This suggests that the risks are not low enough to ignore and that more ought to be done to prevent the worst-case scenarios. Read more >>